Blueberry Crumble Cheesecake Recipe
A combination of tart blueberries with the classic creamy richness of cheesecake. This blueberry crumble cheesecake is a tasty way to indulge your taste buds at any gathering!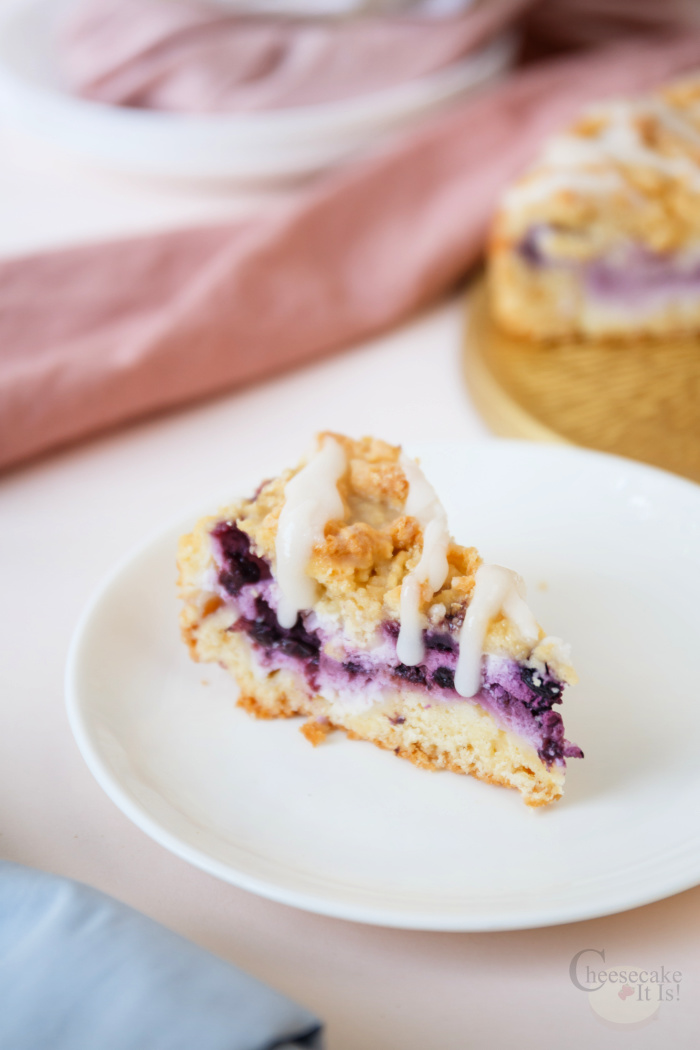 Enjoy a burst of flavor topped with an irresistible sugar glaze. With every bite you'll wish you had more on your plate!
Take your cheesecake to the next level with this cheesecake blueberry crumb cake variation.
Though traditional cheesecake involves a water bath and serious prep time, you'll fall in love with this blueberry crumble cheesecake pie recipe because it's so much easier!
Skip the leg work and still enjoy the classic flavors of creamy cheesecake.
You may also want to check out these other blueberry cheesecake recipes.
Blueberry Crumble Cheesecake Ingredients You Need:
Flour: make sure that the flour is sifted so that no clumps remain, and it presses into the crust easier. All purpose flour works just fine.
Light brown sugar: make sure to use the light version so that the flavor of molasses isn't as potent. This keeps the blueberry crumble cheesecake sweet and light.
Vanilla extract: the purer your vanilla the more pop of flavor you'll get in the cheesecake crust.
Sugar: regular old white sugar works best here as a compliment to the light brown sugar.
Salt: you only need a pinch so use what you have on hand.
Baking powder: you want the crust to rise ever so slightly against the weight of the cheesecake so don't skip this!
Butter: keep the butter cold to make the crust. This way it turns into a crumble mixture and not quite a smooth, wet one.
Blueberries: fresh blueberries work best of possible, but you can use frozen as well so long as you thaw them first.
Powdered sugar: this will mix into the cheesecake filling better without leaving a grainy texture.
Mascarpone: this makes the filling extremely creamy and with a deliciously sweet flavor.
Cream cheese: helps balance out the cheesecake filling. Make sure it's softened slightly.
Cornstarch: this helps thicken the mixture and can be replaced by arrowroot powder in a pinch.
Eggs: make sure to use actual eggs and not the carton variety as it will alter the texture a bit.
Milk: you need this to make the glaze on top of the blueberry crumble cheesecake. It helps keep it creamy.
How To Make Cheesecake Blueberry Crumb Cake:
In a medium bowl combine the salt, flour, sugar, baking powder, and brown sugar until mixed.
Add in the vanilla and butter and mix until it looks crumbly.
Grease a springform cheesecake pan and dump half the crust mixture in.
Press it firmly into the bottom of the baking pan and slightly up the sides. Set aside.
In another large bowl beat the mascarpone, vanilla, cream cheese, sugar, and corn starch until blended with a hand mixer.
Add in the eggs and make sure not to overbeat them.
Pour half the mixture into the premade crust.
Scatter 2/3 of the blueberries over top and then pour the rest of the creamy cheesecake filling over the top of the blueberries.
Finally, scatter the rest of the crumble topping mixture over the blueberry cheesecake and bake at 350F for 1 hour.
Whisk together the glaze and drizzle it over the cheesecake once it's cooked and fully cooled.
Important Teaching Tips:
Take care not to overbeat the eggs when mixing. If you do, chances are your cheesecake will fall a little flat instead of holding up lightly.
You do need all three varieties of sugar for the best texture and flavor. Each one brings its own deliciousness to the mix so try not to sub them out. Especially in the case of the powdered sugar, otherwise your glaze won't thicken properly.
Make sure to use cold butter when making the crust. This way, when it heats up it makes a delicious, buttery crumble. When you're mixing it, leave it looking like a crumble and not a batter.
A pastry cutter works great for mixing the butter into the flour.
You can use frozen blueberries but make sure to thaw them first and use mostly the blueberries and not the runny juices. Otherwise, there will be too much liquid in the filling.
Mascarpone brings its own special sweetness to the blend. Though you could technically substitute it with more cream cheese, you'll end up with a thicker, firmer, and less sweet filling.
For best results, make sure to use a 7-inch springform cheesecake pan.
When baking, if you notice the top starting to brown a bit too much, cover it with aluminum foil and continue for the duration.
Make sure not to drizzle the glaze on until the cheesecake is fully cooled. Otherwise, it will melt as it goes on and you'll have a sugary mess.
How To Serve Blueberry Crumble Cheesecake Pie:
This blueberry crumble cheesecake is served best right from the fridge so that the cream cheese filling retains its delicious texture.
Before slicing it, run a knife around the rim of the pan to ensure not too much is stuck. Then very slowly, remove it from the springform pan.
Slice it into pieces and serve! You can always add a few extra fresh blueberries on top for a garnish.
If you want to dress it up even more, it is lovely with some ice cream, or use heavy cream or whipping cream to make a whipped topping.
Frequently Asked Questions About Blueberry Crumble Cheesecake:
Q. What is the purpose of mascarpone in this delicious recipe?
A. Mascarpone gives the cheesecake a lighter and sweeter texture. Cream cheese has a bit sourer of a taste to it, so you tend to need more sugar to counter it. If you prefer something a bit more decadent and indulgent, use mascarpone in conjunction with cream cheese.
Q. How long will blueberry crumble cheesecake last in the fridge?
A. The cheesecake should last 3-4 days in the fridge when stored in an airtight container. The sugar glaze may not be as apparent though so if you know you'll be storing it, wait to drizzle the glaze until just before serving.
Q. Can I swap out berries to make a different flavored cheesecake?
A. For the most part, this base cheesecake recipe can be used to make any kind of berry crumble cheesecake. However, know that some berries contain more liquid than others so make sure that your filling doesn't come out too watery.
Q. Could this also be made into blueberry crumble cheesecake bars or mini cheesecakes?
A. You could make this in a normal baking dish and then cut it into bars. However, this recipe will not work well for mini cheesecakes.
Blueberry Crumble Cheesecake Pie Recipe
An indulgent combination of fresh blueberry flavor with a creamy filling and crumble crust. This blueberry crumble cheesecake is topped with an easy sugar glaze that makes it the perfect dessert for any occasion!
Print
Pin
Rate
Ingredients
Cake/Crust Ingredients:
1

Tsp

Baking Powder

1/4

Cup

Sugar

1

Tbsp

Vanilla Extract

1/4

Tsp

 Salt

2/3

Cup

 Butter

cold

1/4

Cup

Light Brown Sugar

2

Cups

Flour
Cheesecake Layer Ingredients:
1

Tsp

Vanilla

1

Cup

Blueberries

fresh or frozen (if frozen, thaw first)

2/3

Cup

Powdered Sugar

1

Cup

Mascarpone

8

oz

Cream Cheese

room temperature

2

Tbsp

Cornstarch

2

Eggs
Glaze:
1/2

Cup

Powdered Sugar

1

Tbsp

Milk
Instructions
In a large mixing bowl mix salt, flour, sugar, baking powder, and brown sugar until fully mixed.

Add vanilla and butter to the dry mixture. Mix well. When mixed it should look like a crumble mix and not a batter.

Lightly grease a 7-inch springform cheesecake pan.

Dump about half of the prepared crumb mix into the pan. Press the mix firmly onto the bottom and slightly up the sides of the pan. Set aside or in the fridge.

In another large mixing bowl beat vanilla, mascarpone, cream cheese, vanilla, sugar,  and corn starch together until fully blended.

Add eggs to the cream cheese mixture and beat until fully combined but be careful not to overbeat.

Pour half of the cheesecake mixture over the prepaid crust.

Then scatter about 2/3 cup of blueberries over the cheesecake filling.

Dump the rest of the cheesecake mixture over the blueberries.

Sprinkle the rest of the blueberries over the top of the cheesecake mixture.

Sprinkle the rest of the crumb mixture over the whole cheesecake.

Bake at 350 F for 1 hour or until golden brown. If you notice it is starting to brown too much too early, cover it with aluminum foil.

To make the glaze, simply mix sugar and milk together until fully mixed. You can adjust the thickness by adding more milk or more sugar.

When the cheesecake has fully cooled, drizzle glaze over cheesecake.
These Are Estimated Nutrition Facts
Nutrition Facts
Blueberry Crumble Cheesecake Pie Recipe
Amount Per Serving (1 serving)
Calories 835
Calories from Fat 468
% Daily Value*
Fat 52g80%
Cholesterol 185mg62%
Sodium 497mg22%
Potassium 124mg4%
Carbohydrates 83g28%
Protein 8g16%
Vitamin A 1760IU35%
Vitamin C 4mg5%
Calcium 216mg22%
Iron 3mg17%
* Percent Daily Values are based on a 2000 calorie diet.