Strawberry Cheesecake Dole Whip Recipe (Mixed Drink Type Treat)
Enjoy in all the flavors of strawberry cheesecake but in blended form. This cheesecake dole whip recipe is the perfect summer indulgence.
With just a handful of simple ingredients, you can whip up this boozy dole whip for your next party or just a fun Friday night in a matter of minutes.
Think dole whip is just for Disney parks? Think again!
Classic dole whip is frozen pineapple with a hint of vanilla all swirled together and primarily served at Walt Disney World.
This is a tropical boozy twist on a classic treat that you can enjoy anywhere and don't have to make a trip to Disney theme parks! Perfect dessert or treat for hot summer days.
Immerse yourself in refreshing flavor and kick back with this blended alcoholic drink or boozy easy dessert.
Though classic pineapple Dole Whip uses just pineapple for its base, this strawberry version takes it to a whole new level.
You're going to fall in love with this strawberry dole whip because:
It's easy to make and whips up in just five minutes.
It can be dressed up to impress or whipped up for a laid-back night.
It's a fun one for those occasions you host girls' night!
It's a refreshing blend of classic flavor with a boozy twist.
So, skip the lines at Disney World and make your weekend even better by whipping this boozy dole whip!
After you try this twist of a favorite Disney treat recipe, here are a few other cheesecake recipes to try.
Ingredients You'll Need For This Homemade Dole Whip:
Easily the best thing about this recipe is that there are only four ingredients and one step to make it. This makes it perfect for busy nights when you want to unwind but don't want to spend a lot of time on something!
Pineapple juice: don't think you need to get fancy and bust our fresh pineapple to crush, any store-bought brand of bottle or canned pineapple juice will work here. The juice helps to add that classic pineapple flavor of the classic whip.
Frozen strawberries: this is what helps thicken the strawberry cheesecake dole whip and give it a pop or color. So, opt for frozen over fresh strawberries.
Coconut rum: though regular rum will work in a pinch, it's the coconut yum that gives this boozy dole whip its tropical vibe.
Strawberry cheesecake ice cream: the base of the recipe and what makes it thick, creamy, perfection.
How To Make Cheesecake Dole Whip Recipe:
Pop everything in a blender and process until the strawberries are combined.
Portion it into your favorite martini glass and garnish with more berries.
Then simply enjoy one of your new favorite desserts!
Boozy Dole Whip Important Teaching Tips:
Add the pineapple juice ad rum to the blender first. This will make it easier for the blender to process it. You may need to use a tamper to make sure it comes out smooth.
Make sure not to add any more liquid to the blender (or recipe). Otherwise, it will dilute the texture of the boozy dole whip and it'll come out more like a thin smoothie. You want a thick cream.
You can use fresh strawberries if that's all you have on hand. If that's the case though, you'll want to add a handful of ice or frozen pineapple to the mixture instead.
Cheesecake ice cream can be tricky to find. If you can't swing it, opt for vanilla ice cream instead. Then, add in a few drops of LorAnn cheesecake flavoring so that you still have the best flavor.
How To Serve the Strawberry Cheesecake Dole Whip:
You can dress this boozy dole whip up to make it as fancy as you like if that's your thing!
Some great garnishes for the drink are:
Whipped cream
Cool Whip
Fresh strawberries
Maraschino cherry
Fresh pineapple chunks or crushed pineapple
Sliced coconut.
You could also rim the glass if you wanted with some crushed graham crackers, coconut flakes, or even a little powdered sugar.
Making Ahead & Storing:
I have been asked if this could be made in a larger batch ahead and stored. While we do recommend making it as needed, it can be done ahead too.
Simply mix it up and then store it in an airtight container in the freezer. When you are ready to serve, remove it from the freezer and allow it to sit at room temperature for 10 minutes or so to soften slightly.
Frequently Asked Questions About This Boozy Dole Whip:
Q. Can I make the strawberry cheesecake dole whip recipe alcohol-free?
A. Of course! You may want to add some extra pineapple juice to make sure that the texture comes out the same though. However, to make this recipe into a non-alcoholic drink, all you need to do is omit the rum. This is great for designated drivers, pregnant women, or just those looking to partake in the fun without the tipsy feeling.
Q. What is strawberry dole whip made of?
A. Strawberry dole whip is extremely simple to whip up as all you need is pineapple juice, frozen strawberries and ice cream! If you want to make yours a boozy dole whip, add in some coconut rum for a tropical punch.
Q. Can you make boozy dole whip ahead of time?
A. Because boozy dole whip is ice cream based, it tastes best fresh. If you make it ahead of time and pop it into the fridge it will thin out and become watery from the ice cream melting. Likewise, if you opt to freeze it, you'd have to blend it again as it would be too thick. So, instead of making the dole whip in advance, try to make it as close to serving as possible.
More Cheesecake Dole Whip Recipe Q & A:
Q. How do you make boozy dole whip swirled together like the traditional?
A. If you're aiming for presentation, you'll need a bit more time. Whip up the strawberry cheesecake dole whip and pop it into a parchment paper (or silicone) lined baking pan. Place it in the freezer for 15-20 minutes so that it firms up slightly. Then, portion the mixture into a large plastic baggie and cut the tip off. Massage the dole whip slightly in the baggie to get it moving and pipe it into bowl. Bonus points if you have a piping tip at home you can use. Then, garnish as preferred.
Q. Can you swap vodka for rum in a boozy dole whip?
A. Though technically you can use any spirit you enjoy in the recipe, coconut rum tastes best. Rum naturally pairs well with pineapple giving it a sweet, tropical feel. Coconut rum takes that tropical feeling to a whole other level. However, if you truly don't want to use rum, opt for a flavored vodka you enjoy instead. Know that it will alter the flavor though.
Q. While this boozy delicious dessert is so thick you can eat it with a spoon, could it be thinned to make it easier to drink?
A. Yes! If you want to be able to drink it easier you can add a little more pineapple juice or even add a splash of coconut milk.
Q. Could this be made as non-boozy?
A. You sure can! If you are avoiding alcohol or want to make this for kids, simply leave out the rum and replace it with another liquid. One favorite way to do this is to replace it with a coconut soda to make it more like a Dole Whip float for the whole family to enjoy!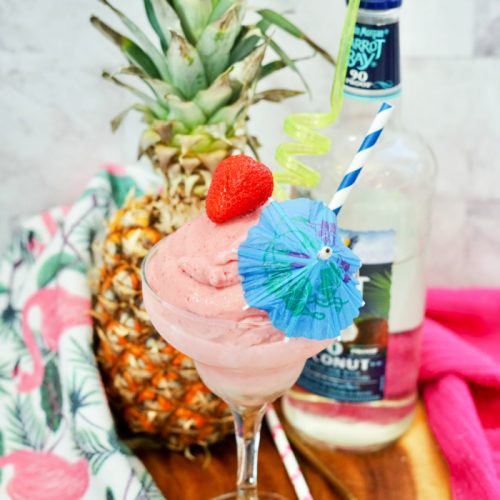 Boozy Strawberry Cheesecake Dole Whip
Curl up by the pool this summer with this dole whip rendition! This strawberry cheesecake dole whip is an easy blend of minimal ingredients and comes with a boozy twist. Deliciously simple, and classically creamy, this is an indulgence you don't want to miss!
Print
Pin
Rate
Ingredients
1/2

Cup

Pineapple Juice

2

Cups

Frozen Strawberries

4

Oz

Coconut Rum

1

Cup

Strawberry Cheesecake Ice Cream
Instructions
Put pineapple juice, frozen strawberries, coconut rum, and cheesecake ice cream into the blender.
These Are Estimated Nutrition Facts
Nutrition Facts
Boozy Strawberry Cheesecake Dole Whip
Amount Per Serving
Calories 670
Calories from Fat 108
% Daily Value*
Fat 12g18%
Cholesterol 38mg13%
Sodium 86mg4%
Potassium 844mg24%
Carbohydrates 74g25%
Protein 7g14%
Vitamin A 463IU9%
Vitamin C 191mg232%
Calcium 220mg22%
Iron 2mg11%
* Percent Daily Values are based on a 2000 calorie diet.