Brioche Donut Recipe With Raspberry Cheesecake Filling
A light, fluffy, donut with raspberry cheesecake filling. This brioche donut recipe is the best donut you'll ever taste.
Made with pantry staples and pumped full of a rich, cream cheese filling, this is a dessert you don't want to put down!
Typically, brioche donuts are donuts in which the recipe calls for a bit more butter in the base. This makes the donuts come out ultra-light, almost pillow-like.
Between the cloud-like texture and the cream cheese filling in this recipe, you can prepare your taste buds for the perfect blend of sweet and tangy flavors!
Each bite will be filled with rich flavor and decadent texture.
Whip these up for guests and they won't want to leave!
You also may want to check out these other cheesecake recipes.
Ingredients You Need For Brioche Doughnuts:
Quick Active dry yeast: also known as instant yeast. You'll need to activate the yeast for the recipe, but the quick stuff works best.
Egg yolks: make sure to use freshly separated egg yolks as they make the texture of the donuts sheer perfection. Store-bought egg yolks can affect the batter slightly.
All-purpose flour: because the brioche donuts are so light, you'll want to make sure your flour is well sifted and not clumpy.
Full fat milk: part of a traditional brioche donut recipe is having an extra amount of fat in the batter. So, make sure to use full-fat milk and not to skimp.
Sugar: plain old white sugar blends best into the dough.
Sea salt: this helps activate the other ingredients so even though it's not a lot, its needed.
Lemon zest: the zest gives a burst of freshness to the brioche donut recipe.
Egg: any eggs you have in the fridge will work. Make sure it's room temperature before using though.
Unsalted butter: because we're adding salt you don't need salted butter. Make sure the butter is melted for the base before using it but not hot. You'll need more for the cheesecake filling and that butter only needs to be softened.
Vanilla extract: both the paste and extract work for this donut recipe so you use what you have on hand.
Dark rum: a punch of potent flavor that takes the donuts from delicious to exceptional.
Powdered sugar: this is for the raspberry cheesecake filling, and you want powdered and not traditional as it gives it more of a silky indulgent taste.
Cream cheese: full-fat cream cheese is what makes the filling classically thick. Soften it before blending though to make it easier.
Freeze-dried raspberries: you want freeze dried raspberries so that they mix into the cheesecake filling best. Regular raspberries will add liquid and alter the texture.
Vegetable oil: this is to fry the donuts before filling. There are other oils you can use but vegetable works fine.
How To Make Homemade Donuts:
Add the yeast and a spoonful of sugar to warm milk in a small bowl and let it sit for 10 minutes.
In a large bowl beat the egg yolks, egg, butter, vanilla, rum, salt, lemon zest, and remaining sugar.
Add in the yeast mixture and mix well.
After milk mixture is mixed in, mix in the flour and knead the dough. Cover with plastic wrap and let the dough rest for 2-3 hours in a warm place for the first rise.
Sprinkle flour on the counter or work surface and roll the dough so it is ¼ inch thick. Cut out 2-inch circles.
Let the cut-outs rest in a warm environment for 20 minutes for the second rise and they will double in size.
Heat the oil on medium heat until boiling. You can also use a deep fryer. Using a slotted spoon, add the donut dough to the hot oil for 2-3 minutes per side. They should be a deep golden brown when done. Remove and place on a cooling rack or wire rack to let cool. You may want to put paper towels under racks as there may be some excess oil that drips off.
While the donuts are cooling, beat together the cheesecake ingredients with an electric mixer until smooth.
Add the mixture to a piping bag.
Push the end of the bag into the side of the donut and squeeze in the filling.
Important Teaching Tips:
Make sure not to over-knead the fluffy brioche dough. One of the reasons brioche donuts are so delicious is that they're light. To make them this way you must ensure that you don't knead out all of the air in the batter.
Once you knead the dough and let it sit, know that how long it sits for the dough rise depends on the temperature of the room. It will take roughly 2-3 hours but keep an eye on the dough after two hours. The goal is to let it sit until the dough doubles in size.
When you're making the 2-inch cut-outs, know that a biscuit cutter (or another object) works best. Try not to "eyeball" this as otherwise your donuts won't be even in shape.
Don't fill the donuts with the raspberry cheesecake filling until they're fully cooled. Otherwise, it'll melt a bit and cause the inside of the donut to be a bit soggy.
Store the brioche donuts in an airtight container in the fridge until ready to serve.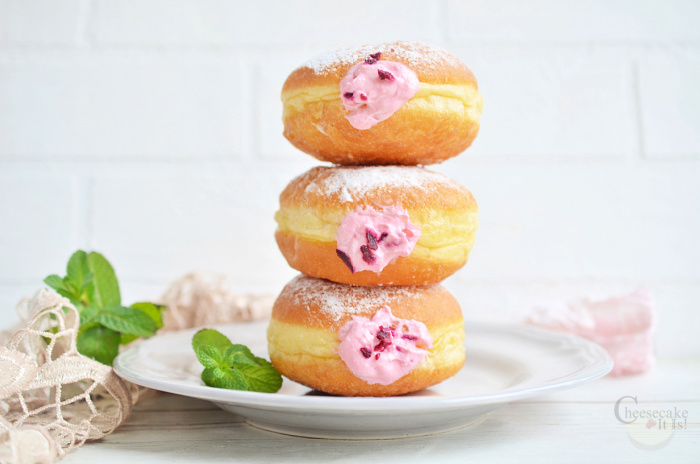 How To Serve Them:
These cheesecake-filled donuts are ready to go once they're made. However, it's easy to dress them up when using them for something like a bridal or baby shower.
The best way to do this is to arrange the donuts on your platter of choice. Then, dust the donuts with sugar (vanilla sugar, caster sugar, or powder sugar) and sprinkle some fresh raspberries around them for a pop of color.
Extremely simple but stunning too!
Brioche Donut Recipe Frequently Asked Questions:
Q. What is a brioche donut?
A. Brioche donuts are the ultimate donut. Their batter has more fat in it which results in a very light, cloud-like texture. These donuts are fried to perfection on the outside as well instead of baked.
Q. Can I change the flavor of the cheesecake filling?
A. If you want to alter the flavor of the cheesecake filling, simply use another freeze-dried berry. Blueberries make for a fun purple filling and is often a nice change up. Make sure to use freeze dried fruit though so that the thick texture of the cheesecake isn't altered. If you just want the cheesecake flavor, feel free to leave out the berries all together.
Q. Can the dough be cooked in an air fryer?
A. While it could be made in an air fryer it really works best for flavor and texture when these are oil fried.
Q. Can these be made in a deep fryer?
A. Yes! Making them in a small pot on the stove does require less oil. However, if you already have a deep fryer, feel free to use it.
Q. Can this brioche donuts recipe be frozen?
A. No. These do not freeze well.
Q. Could this doughnut recipe be used with other fillings?
A. Yes! While we love stuffing donuts with cheesecake filling, you can also use things like pastry cream, lemon curd, vanilla cream, or jelly.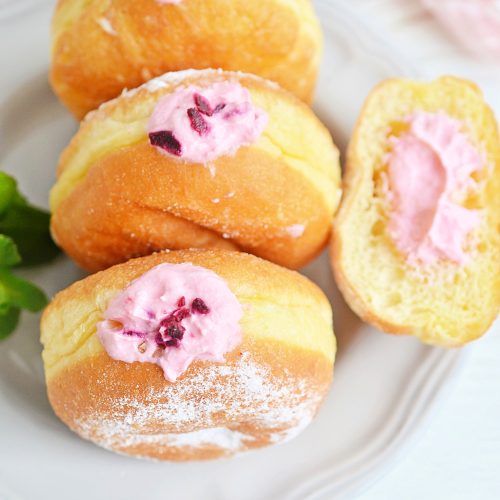 Brioche Donut Recipe With Raspberry Cheesecake Filling
The perfect blend of flavors. This brioche donut recipe is fried to perfection to create a light, soft texture and piped with thick, rich, raspberry cheesecake filling. The ultimate dessert.
Print
Pin
Rate
Ingredients
Brioche Donut Recipe Dough Ingredients:
2 1/4

Tsp

Quick Dry Yeast

(7 g)

2

Egg Yolks

3 3/4

Cups

All-purpose Flour

(500 g)

1

Cup

Full Fat Milk

(240 ml)

1/4

Cup

Sugar

(60 g)

1/2

Tsp

Fine Sea Salt

Zest of 1 Small Lemon

1

Large Egg

1/2

Stick

Unsalted Butter, melted

(60 g)

1

Tsp

Vanilla Extract

or vanilla paste

1

Tbsp

Dark Rum
Raspberry Cheesecake Filling:
1

Cup

Unsalted Butter, softened

1

Cup

Powdered Sugar

8

oz

Cream Cheese

1/4

Cup

Freeze-dried Raspberries
Instructions
In a small bowl add yeast and a spoonful of sugar to warm milk. Set aside for 10 minutes.

In a large mixing bowl, beat the egg yolks, egg, butter, vanilla, rum, salt, lemon zest, and remaining sugar together with a hand mixer or in a stand mixer.

Add the yeast mixture to the egg mixture and mix well.

Then mix in the flour and knead the dough. Cover and leave for 2-3 hours. Depend on how warm the room is will depend on how long it takes to double in size.

Dump the dough out on a lightly floured counter. Roll the dough out until it is about 1/4 inch thick. Using a biscuit cutter or another like object, cut 2-inch circles.

Let the cutouts rest for about 20 minutes. They should double in size.

Heat oil on medium heat until the oil is boiling.

Add donut dough to the hot oil and fry for 2-3 minutes on each side.

Remove and let the donut cool.

While the dough cools you can mix the raspberry cheesecake filling.

In a large bowl beat all the cheesecake filling ingredients together with an electric mixer.

Add the filling to a pastry bag. Push the end of the bag into the side of the cooled donut and squeeze the filling into the donut.