Cheesecake Pan – 3 Different Types What's The Difference?
Have you ever been reading a cheesecake recipe and wonder what cheesecake pan to use? I am going to go over the 3 most common cheesecake pans and the differences between them.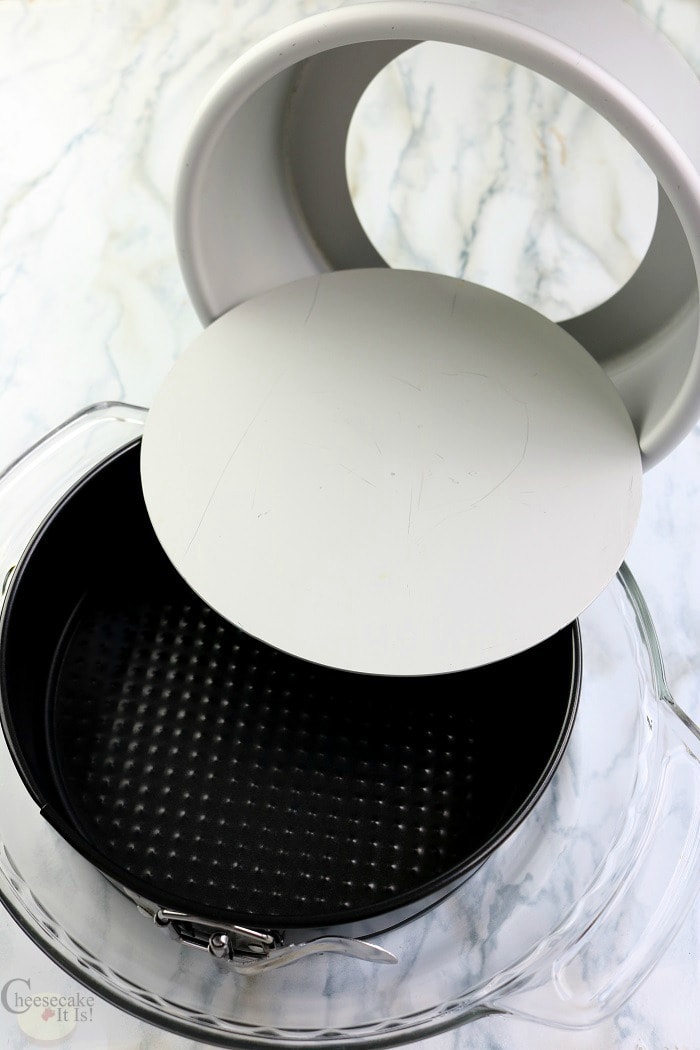 Cheesecake Pan – 3 Different Types What's The Difference?
If you are new to cooking or just new to making cheesecakes, you may look over a recipe and see that it calls for a cheesecake pan you may never have heard of.
So I thought I would take a few minutes to go over the three main cheesecake pans and the differences between them.
Springform Pan:
The first one we are going to talk about is the one people use the most often when making cheesecakes. It is called a springform pan. The springform pan I use most is this one here.
A springform pan has a ring that expands around a flat disc bottom. You put the disc in the tiny lip of the ring and then close the hinge on the side.
When your cake has cooled, you simply open the latch on the side. The ring will then expand separating it from the bottom disc. Then you will be able to remove your cheesecake.
While the most common of these pans are round, they do also come in other shapes as well as a wide variety of sizes.
They also come in different types of materials and coatings. There are ones that are aluminum, steel, glass bottoms, non-stick surface and so on.
A traditional springform pan has a lock latch like described above, however, there are new type springform pans on the market that are a little different.
Such as the silicone springform pan. It is still called a springform, but the latch is more like a clip and not so much a spring latch.
If you are looking for a recipe made in a springform pan, the recipe for Pressure Cooker Coconut Cheesecake was made in one.
Push Pan:
A push pan is normally the next runner up when it comes to cheesecake making. However, it is normally my go to as I just find it easier. The push pan I use most is this one here.
Like the springform a push pan as a removable bottom. But it does not have a latch on it. The round part is just like a normal round cake pan so it does not expand like the springform. It has a hole in the center of the bottom.
You simply lay the round disc down inside the round pan. Then add your crust and filling on top of it. The weight of the contents holds it pressed against the cake pan so it does not leak out.
When your cheesecake is cooled, run a flat knife around the edge to make sure it is not sticking to the sides. Then simply push up from the bottom center to raise the disc/cake out of the rest of the pan.
I find it helpful to set it on something to push the bottom up slow and evenly. Like a can of nuts or in my case I use a canister of cocoa powder.
These pans also come in different types of materials and coatings such as stainless steel, anodized aluminum and nonstick.
Need a recipe that uses a push pan? The recipe for Instant Pot Carrot Cake Cheesecake was made in one.
Pie Pan:
The cheesecake pan that is used less often is a pie pan. Or sometimes called a pie tin. I am sure everyone knows what a pie pan is as it has been around for centuries making things like tasty apple pie.
These can be made from glass, ceramic, tin and even silicone and can vary in sizes. You can even buy ones with pre-made crusts in them. The pre-made ones normally are offered with either a graham crust or chocolate crust.
Pretty much the only time you would be using a pie pan to make cheesecake is if it was more of a tart cheesecake. Meaning not a thick filling.
It is also used a lot for no bakes cheesecake recipes. That is because no bakes normally are not as thick as a cooked cheesecake.
Because there are no eggs in them to help hold them together. So the thicker you make them, the more of a chance it will be a thick pudding type filling. So no bakes normally work well in a pine pan.
While there are other pans that could be used to make cheesecake, these are the three most common. Nowadays there are also lots of different ways to make cheesecake outside the normal round cake. Such as dips, smoothies, popsicles, bites, cups just to name a few.
Do you have a go-to cheesecake pan you love to use?
Looking To Learn A Little More?
If you like to learn about things and are wondering where cheesecake all started, be sure to check out my post on Cheesecake History.
Don't know about you, but I always love finding out fun little facts about where things come from or how that got started.