Keto Mug Cheesecake Recipe
Love cheesecake but don't have the time to bake one? Try this simple, delicious keto mug cheesecake recipe! This single-serving dessert is made with just a few low-carb ingredients and can be ready in five minutes or less.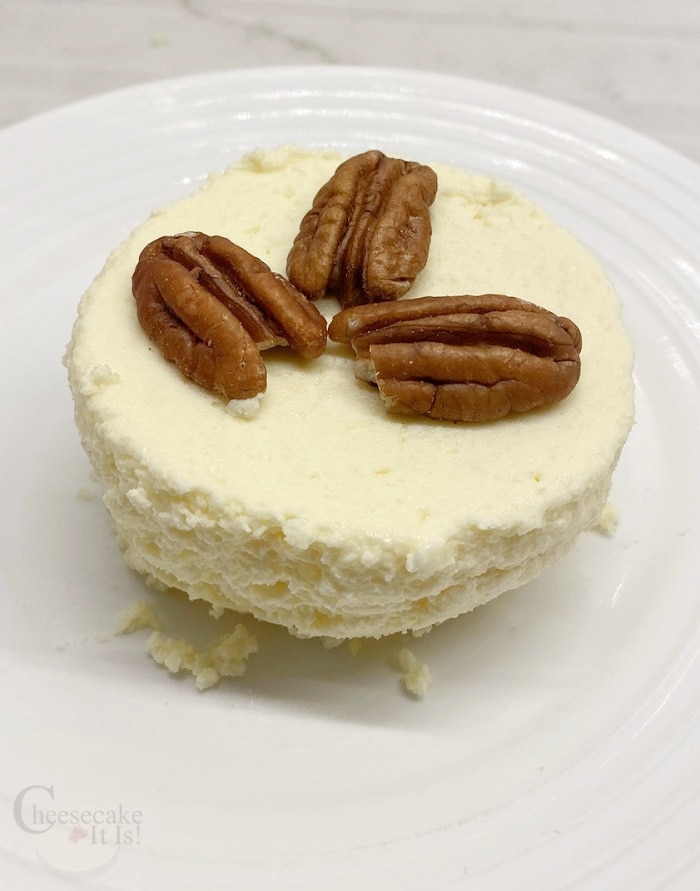 It's super creamy and packed with delicious flavors of vanilla, lemon zest, and cream cheese. Enjoy this keto treat as a quick snack or dessert!
If you are also looking for other Keto cheesecake treats to try, here are a few others to check out.
Macro Breakdown & Calories
Calories: 415
Carbohydrates: 6 g
Protein: 11 g
Fat: 39 g
Keto Mug Cheesecake Ingredients
Cream Cheese
Cream cheese is the main ingredient in this keto mug cheesecake recipe, providing a rich and creamy flavor. It's also a staple in the keto diet because it's a low-carb and high-fat food. It also helps to bind all of the ingredients together.
Heavy Cream
Heavy cream adds richness to this keto mug cheesecake recipe and helps bind all ingredients together. It's also a good ingredient to incorporate if you're following the keto diet because it is low in carbs and helps increase fat intake while making this cake very dense and creamy.
Low-Calorie Sweetener
This keto mug cheesecake recipe calls for 2 tsp of low-calorie sweetener. I used Splenda because that is what I had on hand. However, you can substitute this with artificial or natural low-calorie sweeteners, such as stevia, erythritol, monk fruit extract, and maple syrup. Just keep in mind that the sweetness level may vary.
Vanilla Extract
Vanilla provides a subtle yet delicious flavor to this keto mug cheesecake recipe. It also helps cut through the cream cheese's and heavy cream's richness. If you don't have any on hand, you can use almond or another flavoring extract if vanilla isn't your thing!
Lemon Juice and Zest
The fresh lemon juice and zest provide a refreshing flavor to this recipe. The acidity of the lemon juice helps to cut through the richness of the cream cheese, while the zest adds a hint of citrusy aroma and flavor.
Egg
The egg in this recipe acts as an emulsifier to help bind all ingredients together and creates a fluffy texture in the keto mug cheesecake. It's also crucial for structure, so the cake doesn't collapse after it's baked.
How To Make This Keto Mug Cheesecake Recipe
Start by using an electric mixer to beat the cream cheese until it's nice and creamy. You can also do this with a whisk, but it may take a little longer!
Add the heavy cream, Splenda, vanilla extract, and lemon juice. Mix all ingredients until combined.
Gently fold in the lemon zest and then add the egg. Make sure to mix everything until it is fully incorporated.
Pour the mixture into a microwave-safe mug or small dish. You can also use a microwaveable ramekin for this recipe.
Pop your mug into the microwave for about 2 minutes. You may need to cook it for 30 seconds more. Check the center to see if it's set (but still soft).
Let your keto mug cheesecake cool down, and place it in the fridge to chill. I left mine in the refrigerator for about an hour, and it was good to go!
When you're ready to eat, you can either eat it in the mug or use a spatula to sweep it out. Add any desired toppings such as nuts, berries, or low-carb syrup (I used a couple of pecans)
Customizations
Add More Protein
You can also add protein powder to your keto mug cheesecake for an extra punch of nutrition. Check out this tried and tested Naked Whey Protein with this recipe (click for review). I recommend using the 'natural flavor' (i.e. flavorless). Simply mix in about half of a scoop, and you're all set! More than that might mess up the texture, though.
Incorporate A Mix-In
If you want to switch up the flavor of your keto mug cheesecake, try adding a mix-in, like a tablespoon of peanut butter or cocoa powder.
You could also mix in chopped nuts, strawberries, or sprinkles to add some more color, flavor, and texture.
Try New Toppings
The topping options for this keto mug cheesecake are endless! Add sugar-free marshmallows, a sprinkle of sugar-free chocolate chips, or a dollop of low-carb whipped cream.
You can also drizzle some sugar-free syrup on top if you want a little extra sweetness.
How To Store & Meal Prep:
This keto mug cheesecake is best enjoyed freshly made, but it can also be made ahead and stored in the fridge for up to 3 days.
Make a few individual servings to meal prep and store them in separate containers. When you're ready to eat one, just pop it into the microwave for 1-2 minutes and enjoy!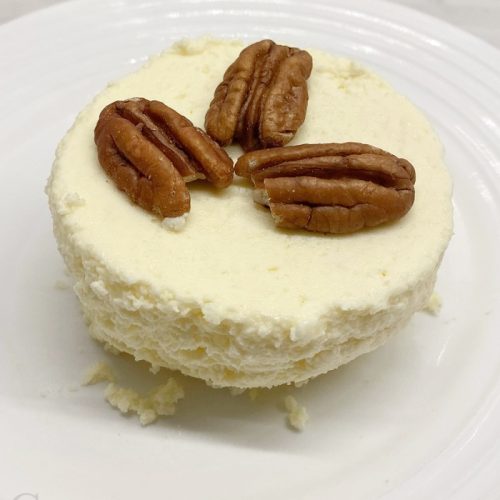 Keto Mug Cheesecake Recipe
If you are trying to stick to a low carb or Keto diet you have to try this easy recipe! I will show you how to make this Keto mug cheesecake!
Print
Pin
Rate
Ingredients
3

oz

Cream Cheese

1

Tbsp

Heavy Cream 

2

Tsp

Low-calorie Sweetener

1/4

Tsp

Vanilla Extract 

1/4

Tsp

Lemon Juice 

1/4

Tsp

Lemon Zest 

1

Egg
Instructions
Beat cream cheese in an electric mixer until creamy.

Add heavy cream, low-calorie sweetener, vanilla extract, and lemon juice. Mix until combined. 

Gently fold in lemon zest and egg. 

Pour the mixture into a microwave-safe mug or small dish and microwave for 2 minutes. 

Let cool and chill in the fridge for one hour (or enjoy immediately).

Add desired toppings and serve!
Notes
While this cheesecake can be eaten warm right from the microwave, we find it has the best flavor if you allow to chill for at least 1 hour in the fridge.
Estimated Nutrition Information For Recipe As Is: Serving Size 1, Number of Servings 1, Calories 415, Total Fat 39 grams, Carbohydrates 6 grams, Protein 11 grams
These Are Estimated Nutrition Facts
Nutrition Facts
Keto Mug Cheesecake Recipe
Amount Per Serving
Calories 415
* Percent Daily Values are based on a 2000 calorie diet.